COURSE > Sunset Sea Kayak
Sunset Sea Kayak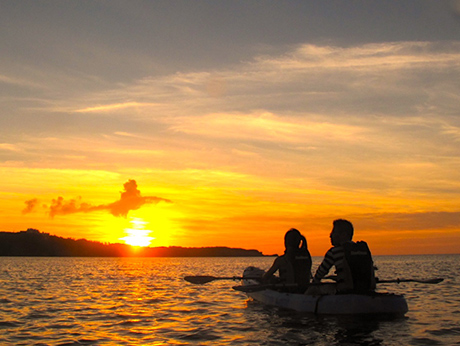 Price

5,000JPY/per

Time required

1.5-2 hours

Play Time

30-40mins

Schedule

JAN to Middle of APR,
In the middle of SEP to DEC
5:00-5:30
In the middle of APR to In the middle of SEP
6:00-6:30

Age limit

1-69 years old

Items to bring

Swim suit, towel

Payment

Cash(JPY) or Credit card
・You will see beautiful and romantic sunset over the horizon. This tour is very popular to couples.
・It takes only 5 mins from our shop to the beach.
・Two adults and a kid (under 20 kgs) are available to take a kayak.
・We need you to register credit card information to complete your booking.
・You are not able to join our tour in the case that we found your medical history. We also ask you to pay 100% of your tour charge as your cancel charge. Please check all of your health condition in advance and let us know immediately if you have any problems with that.
・You can not join our tour if you are drunken on your tour day. You will be required to pay cancel chaege in that case.
・hypertensive people can not participate.
Details of Sunset Sea Kayak
0min

Meeting
Reception & Payment
Changing
Going to the beach
Briefing
Start Kayaking
Practice
Taking a Rest on the Private Beach
Sunset appreciation
Finish kayaking

90min

Taking Shower & Changing
Breaking up
Meet up.
Fill up a form & pay your fee.
Change your clothes.
Walk to the beach.
Briefly receive an explanation about kayak.
Take a kayak and sail to the sea.
Practice & enjoy kayaking.
Land to the private beach & take a rest.
Sail to the ocean again & enjoy the view of sunset.
Go back to the beach & finish.

Take a shower & change cloths at our shop
Break up