COURSE > The Blue Cave Snorkeling
The Blue Cave Snorkeling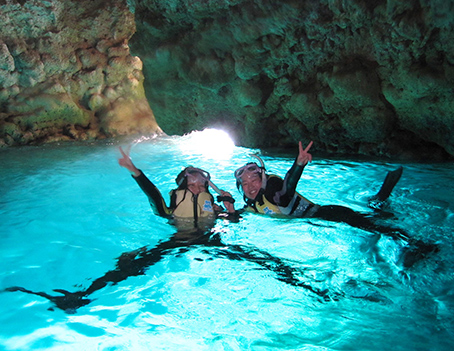 Price

3,500JPY/per

Time required

2-2.5hours

Snorkeling time

30-40mins

Schedule

| | | | | |
| --- | --- | --- | --- | --- |
| AM | 8:00 | 9:00 | 10:00 | 11:00 |
| PM | 12:00 | 13:00 | 14:00 | 15:00 |

Age limit

Until 59 years old

Items to bring

Swim suit, towel

Payment

JPY cash only
・We organize small groups for your safety and fun time. Welcoming all guests, who have kids, no experience and are not good at swimming. The age limit is as above.
・You can enjoy the Blue Cave, tropical fishes and coral reef in the beautiful sea.
・You can also feed tropical fishes! Many fishes will come up to you.
・You would be asked for deposit, which is 50% of your total amount, depending on your booking details. Please pay it with your credit card to confirm your booking, and pay the rest of your amount with JPY cash on your tour day.
・You are not able to join our tour in the case that we found your medical history. We also ask you to pay 100% of your tour charge as your cancel charge. Please check all of your health condition in advance and let us know immediately if you have any problems with that.
・You can not join our tour if you are drunken on your tour day. You will be required to pay cancel chaege in that case.
・Pregnant or hypertensive people can not participate.
Details of the Blue Cave Snorkeling
0min

Meeting
Reception & Payment
Changing
Briefing

30min

Departure
Entering
Start Snorkeling
Arriving the Blue Cave
Feeding Fishes
Finish Snorkeling

90min

Coming back
Taking a Shower & Changing
Returning your wet suits

120min

Breaking up
Meet up.
Fill a form & pay your fees
Change to wetsuits
Briefly receive an explanation about snorkeling
Walk down stairs to the sea
Enter to the sea from shallows
Let's start snorkeling! Swim to the Blue Cave.
Swim about 100m & arrive at the Blue Cave.
On the way back, feed fishes.
Leave from the entry.
Go back to the meeting point.
Take a shower & change clothes.
Returning your wet suits
Break up.