COURSE > Snorkeling in the Blue Cave and Diving at coral reef area
Snorkeling in the Blue Cave and Diving at coral reef area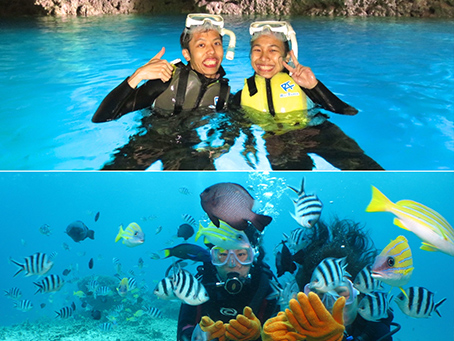 Price

11,000 JPY/per
(Individual participant: 12,000 JPY)

Time required

3-4 hours

Snorkeling time

30-40mins

Diving time

20-30mins

Schedule

| | | | | |
| --- | --- | --- | --- | --- |
| AM | 8:00 | 9:00 | 10:00 | 11:00 |
| PM | 12:00 | 13:00 | 14:00 | 15:00 |

Age limit

12-59 years old

Items to bring

Swim suit, towel

Payment

Cash(JPY) or Credit card
・You will visit the Blue Cave by snorkeling, and be able to see fishes and coral reef right in front of you. This is the most popular tour in our shop.
・ We take you to the tour in a small group by both snorkeling and diving. Couples, friends and families alone can enjoy activities. Anyone is welcome, if you are interested in. Please feel free to join the tour.
・You can feed tropical fishes! Many fishes will come up to you.
・We need you to register credit card information to complete your booking.
・You are not able to join our tour in the case that we found your medical history. We also ask you to pay 100% of your tour charge as your cancel charge. Please check all of your health condition in advance and let us know immediately if you have any problems with that.
・You can not join our tour if you are drunken on your tour day. You will be required to pay cancel chaege in that case.
・Pregnant or hypertensive people can not participate.
Details of Snorkeling in the Blue Cave and Diving at coral reef area
0min

Meeting
Reception & Payment
Changing
Briefing

30min

Departure
Entering
Start Diving
Arriving at the Blue Cave
Feeding Fishes

90min

Coming back
Taking a Rest

120min

Briefing
Departure
Entering
Breathing Practice
Start Diving
Feeding Fishes
Finish Diving

180min

Coming back
Taking a Shower & Changing
Returning your wet suits

210min

Breaking up
Meet up.
Fill a form & pay your fees
Change to wetsuits
Briefly receive an explanation about snorkeling
Walk down stairs to the sea.
Enter to the sea from shallows
Let's start snorkeling! Swim to the Blue Cave.
Arrive at the Blue Cave after swimming about 100m
Feed fishes on the way back
Leave from the entry.
Go back to the meeting point.
Take a rest.
Briefly receive an explanation about diving
Let's go ahead to the sea again!
Enter to the sea from shallows
Practice breathing with a regulator on the water surface.
Start diving.
Have a great time underwater with fishes.
Leaving from shallows
Go back to the meeting point
Take a shower & change your clothes
Return your wet suits.
Break up.
By the way, we might play diving before snorkeling.
We decide it on that day.